Maker Services
COVID-19 Update: All Quad, virtual reality, Tech Café, and Idea Box events have been suspended. Read the full Washoe County Library System announcement.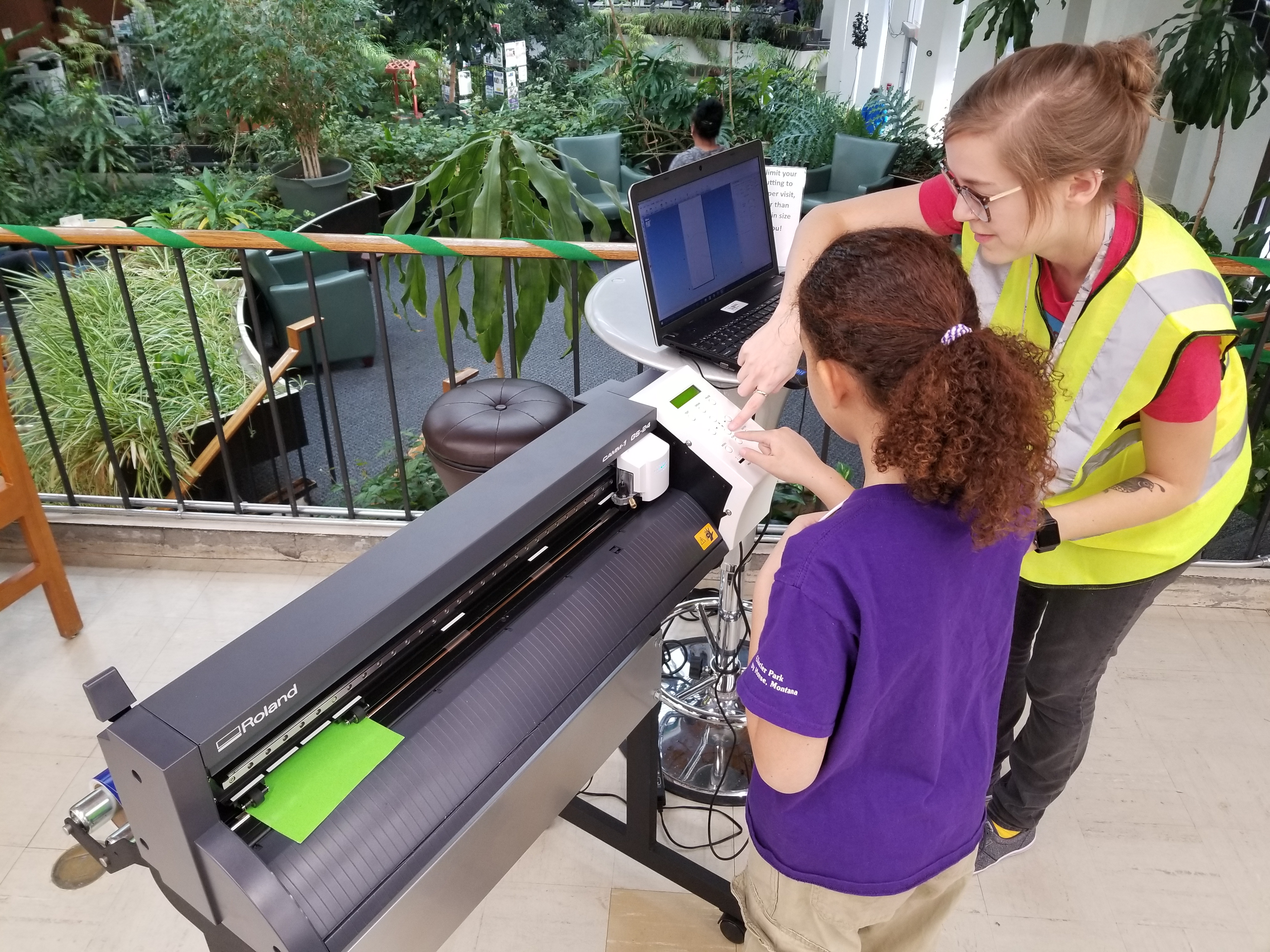 Located on the fourth floor of the Downtown Reno Library, the Quad is Washoe County Library System's flagship makerspace.
A library makerspace provides an environment that nurtures learning and exploration, fosters innovation, and inspires creativity while cultivating 21st Century skills such as critical thinking, creativity, communication, and technical expertise. It is a social space where makers of all ages can gather, create, and invent in a collaborative environment.
The Quad features tools and materials that patrons can use free of charge. Patrons may also bring their own materials. Every Thursday from 3 to 6 pm the Quad is open to the public and is staffed by library employees and volunteers who offer assistance and instruction. On these afternoons we focus on projects using the heat press in combination with either the vinyl cutter or sublimation printer (on alternating weeks). Additionally, the button machine, leather working tools, and laminator are usually available.
We also offer appointments for individual and small group trainings on all the Quad equipment.
Community groups, schools, and organizations of five or more who would like to schedule a tour or participate in Quad activities should contact library staff at least two weeks in advance.
Please email Brent at bcollamer@washoecounty.us to make arrangements.
3D Printers
Get hands-on experience with our Lulzbot Taz 6 3D printer, located at the Quad. Choose a design from a website or create your own. Or you can submit an object file online to any of our eight libraries that have 3D printers and pick up your project once it is completed.
Learn More or Submit a Project

Button Machines
Use our designs or bring your own printed images to cut out and create buttons or magnets. There are two sizes of round button machines and punch cutters: 1.25 and 2.25 inch diameters. There is also a two inch square machine and punch cutter with square and diamond backs.
Cutting Machine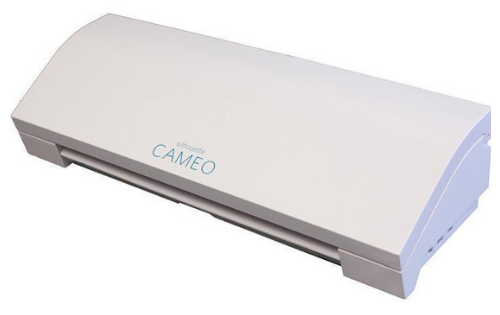 The Silhouette Cameo 3 can cut a variety of material, including vinyl, paper, cardstock, and fabric, in sizes up to 12 inches wide and 10 feet long. Use your designs to create cards, vinyl logos for your car windows, and much more. With the auto-blade system, you can let the machine set the correct blade depth for your project. Simply select your material type and let the Cameo do the rest.
Heat Press
This HPN Signature Series heat press includes a digital timer and temperature gauge, gas shock opening mechanism, slide-out lower platen, and a magnetic auto-open release. Bring a T-shirt, towel, or canvas bag with a blank surface; print a graphic using our Roland vinyl cutter, and use the heat press to apply the design to your item.
Leather Working
Our leather crafting station includes decorative and alpha-numeric metal stamps. Using a mallet, the stamps can be used to create designs on leather. Use the stamps to create a sample project, or bring your own leather supplies and use our tools.
Mat Cutting
Framing your photos can be an expensive project. Save money by using our tools and mat cutters. Bring in a picture and the frame you intend to use.
Mug Press
The HPN Signature Series mug press can be used in combination with the sublimation printer to transfer full-color images onto a variety of metal and ceramic mugs. It accomodates standard 11 and 15 ounce mugs, as well as tall 17 ounce latte mugs.
Sewing Machine
The Brother CS6000i is designed for ease of use, with its automatic needle threader, clear threading diagrams, adjustable sewing speed control, and easy-to-read LCD display. Work on an easy sample project to learn simple sewing techniques.  
Soldering Station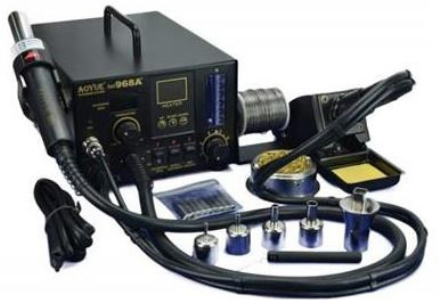 The Aoyue 968A Soldering Station features a 70 watt soldering iron and a smoke extractor that reduces the fumes produced by soldering. It can be used to repair musical instruments or electronics or to create jewelry or other art projects. Practice your soldering skills with our sample project, or bring your own project.
Sublimation Printer
The Sawgrass Virtuoso SG400 dye-sublimation printer can be used to print vivid designs that can be transferred to fabric, ceramic, metal, and other materials using a heat press. Bring a flash drive with a .jpg of your favorite photo, and create a coaster, metal bookmark, or mug.
Thermal Laminator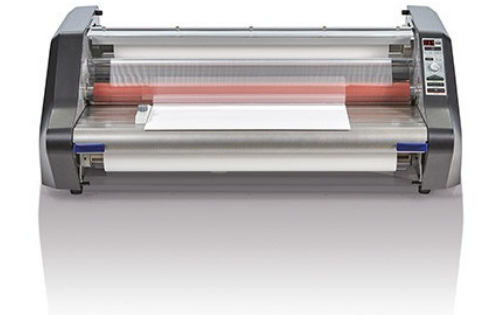 The Ultima 65 makes laminating easy. The maximum document width of 27 inches can easily accomodate most classroom charts, certificates, and artwork. The built-in trimmer eliminates the need for scissors. Safety features include an attached protective shield, auto standby mode, and auto shut-off. Bring your own document, photo, or other paper item to laminate.
Vinyl Cutter
Capable of cutting self-stick vinyl up to 24 inches wide, the Roland GS-2 can be used to make decals for car windows, walls, and almost any other surface. Or you can create a design that can be applied to a T-shirt or tote bad using the heat press. Vinyl is available in black, white, yellow, blue, orange, red, gray, green, and purple. Bring your own .jpg or .bmp image on a USB drive, or select one of our designs to try.
Designed to spark creativity, our Idea Boxes are self-contained kits that have the materials and instructions needed to complete small projects. Each of these eight boxes is available at a library for two months before rotating to a new location. View or download the schedule on the right of this page for current locations. Please call the hosting branch to make sure the idea box is available.
Bead On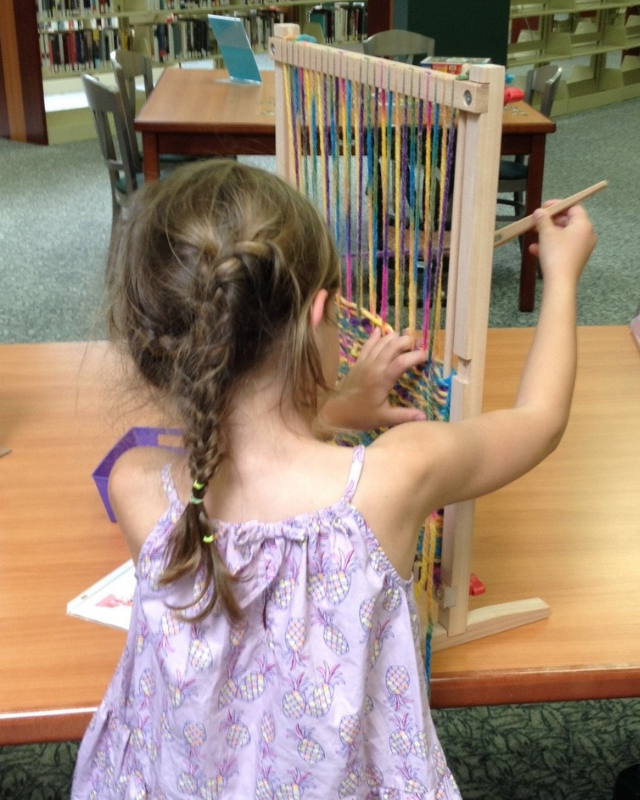 Beading provides a sense of accomplishment that contributes to creativity and self-expression. Besides being a creative leisure activity for all ages, beading also contributes to children's development of fine motor skills, visual perception, and social skills. 
Activities: Make a button necklace or bracelet or a bookmark; try the lacing activities for toddlers.
Duct Tape Creations
Duct tape's use dates back to WWII, when it was used to keep ammunition dry. It has also been used by NASA as a tool on space missions. Today duct tape is in every home repair kit and is also used for creative projects.
Activities: Make a duct tape bookmark, library card wallet, or pencil pouch.
Mad Mattr

®
Mad Mattr® is a super soft modeling compound that can be shaped and molded, that also "flows" when slowly pulled apart. Create, build, or simply squeeze some stress away.
Activities: Make LEGO

®

-like bricks or use the other molding tools provided to make a castle or whatever your creative mind imagines.
Miniature Gardens
Zen gardens are traditionally carefully composed landscapes with arrangements of rocks, water features, moss, pruned trees, and bushes. Some also incorporate gravel or sand that is raked to represent ripples in water. Since we don't all have the time or patience to create a beautiful zen garden in our backyards, try this tabletop version.
Activities: Create a small zen garden out of sand and colored glass stones. Use the bamboo skewers to draw patterns in your sand, or place some colorful stones in your zen garden.
Origami & Paper Art
Origami, derived from the Japanese words oru (to fold) and kami (paper), has been a recreational and ceremonial art tradition in Japan since the early 1600s. The purist origami artist does not use tools to cut or glue the paper being worked with, but relies on oftentimes intricate geometrical folding to create delicate mathematical works of art.
Activities: Fold a Peace Crane: Patrons may refer to printed directions on how to fold a peace crane and add it to a growing string of cranes to travel along in the system, or take your crane home.

Sew & Stitch, Wrap & Weave
Explore textiles by weaving, sewing, and quilting. Use burlap, feathers, yarn, fabric, and your imagination. Make a colorful craft to take home, or experiment with a simple table top loom.
Activities: Make a mini quilt with fabric squares and backing fabric. Make a coaster or a mini potholder on the loom. Create a cute owl with burlap and buttons.
Sound of Science
Learn how sound waves create different tones. Make new sounds with a variety of singing bowls, wooden percussion instruments, and tuning forks. Experiment with a theremin, an electronic musical instrument that you play without actually touching the instrument.
Activities: Make a straw oboe and a craft stick harmonica.
Zip, Zap, Zing
Explore electricity and create LED paper lanterns, Circuit Bugs, and more with this family friendly kit that promises to light up your life.
Activities: Make a simple circuit, an LED greeting card, a paper lantern, and more.
Print