North Valleys Library Undergoes Renovations.
Washoe County Library launches crowdfunding campaign.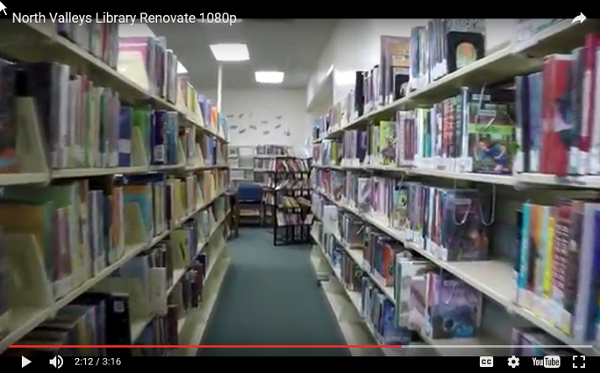 After 40 years, the North Valleys Library will get much needed upgrades and they need your help. The North Valleys Library serves many valley communities located on the east side of Peavine Mountain.  Library patrons can easily use the library as a regular part of their daily or weekly routine since it is conveniently located in a central shopping area. 
The planned expansion is estimated to cost over $30,000.  These upgrades are geared towards improved service delivery and include adding a STEAM area to increase opportunities for students to learn Science, Technology, Engineering, Arts, and Mathematics, an expanded children's collection, an area focused on early literacy, and a new business center to help job seekers and students alike. The project is anticipated to begin in November.  North Valleys Library will need to temporarily suspend service for the much needed upgrade.  
"With the increased growth in the North Valleys area, this is an ideal time to improve library services to that population." says Jeff Scott, Washoe County Library Director.  In the meantime, Washoe County Library System would like to encourage patrons to visit our other locations and take advantage of the fantastic services and programs they offer.  All Washoe County Library Card holders also have 24/7 access to library materials via our digital downloadable ebooks and audiobooks as well as our various research databases, all available online at www.washoecountylibrary.us.  
The North Valleys Library has started a non-profit crowdfunding campaign through Generosity.com. Please join in support of this fundraising effort, whether by making a donation or spreading the word to friends, acquaintances, and local businesses. For more information, contact Jonnica McClure, Managing Librarian, at (775) 972-0281 or jmcclure@washoecountylibrary.us
To donate online, please visit www.generosity.com/community-fundraising/north-valleys-library-grow-family-literacy 
Thank you in advance for your generous support of this project.
There are currently no similar stories.
Print