Summer Reading Program: A Universe of Stories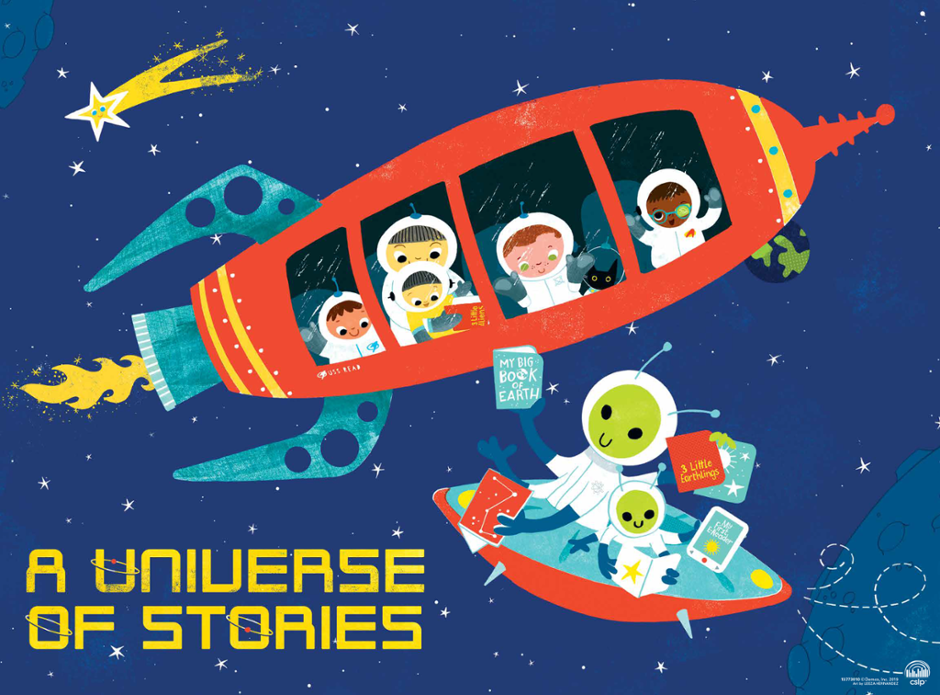 Celebrate summer with Washoe County Library System's community wide Summer Reading Program. This year's theme, A Universe of Stories, coincides with NASA's 60 years of achievement and its celebration of the fiftieth anniversary of the Apollo moon landing.
It's easy to sign up and participate!
Visit washoecountylibrary.readsquared.com beginning June 1, or download the READsquared app (available for both Android and iOS).
Create an account by clicking "Register." Learn more with our Summer Reading Program tutorial.
Don't miss your library's Summer Reading Launch Party!
Log your reading every day, June 1 - July 31.
Kids and teens will receive a pencil or temporary tattoo at sign-up and a free book and themed bag on completion of the program.
When you reach your goal (minimum 600 minutes), you've completed the program and can print your certificate.
Even when you're done, keep reading to continue to earn badges, complete missions and unlock mini-games.
How do I earn a free book?
It's easy -- just keep reading! Earn points by reading, attending library events, and completing missions. Participants can set personal goals for completion. A minimum of 600 points is needed to complete the program. To receive a free book, book bag, and incentives, participants need to participate online or through the app.
Reading 1 minute = 1 point
Attending library events = 20 points
Missions = 5 points
I'm an adult — what's in it for me?
If you have kids, participating yourself is a great way to help your children stay motivated. Even if you don't have kids, it's a way to keep yourself engaged and aware of your reading time. While we are unable to award free books to adult participants this year, you can still unlock cool mini games and earn badges. 
Why can't I log more than 300 minutes?
There's no such thing as "too much" reading, but for the purposes of earning points in the Summer Reading Program, five hours a day is the maximum.
What prizes are available this year?
For the 2019 program, we are focused on books and reading. Children will earn a free book and themed book bag.
Do I have to track my reading online?
In order to participate in all of the features of our online program, you will need to log your hours online or through the READsquared app. If you would like an easy way to track your reading in between logins, reading logs are available at all libraries. Logs can also be downloaded from this page and are available in both English and Spanish.
Are book reviews required?
The only information that must be entered to log your reading is the number of minutes read. Titles, authors, and reviews are all optional.
Washoe County Library System would like to thank our sponsors for providing funding, advertising, and programs for our 2019 Summer Reading Program:
Print