Washoe Reads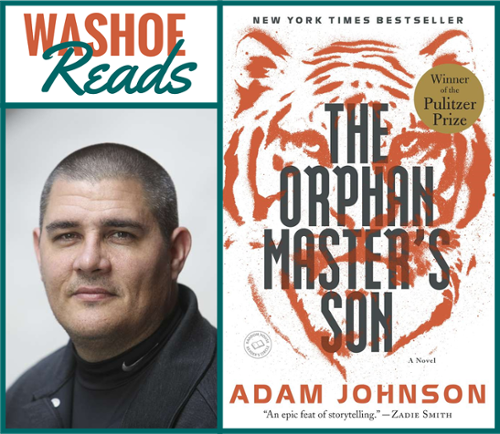 Join Washoe County Library System in partnership with Nevada Humanities to celebrate a community-wide read of Adam Johnson's The Orphan Master's Son.
Book Discussions will take place at several library locations through September 15, culminating with the 4th Annual Nevada Humanities Literary Crawl on Saturday, September 16, 2017 from 3:00 to 8:00 pm at venues throughout the Downtown Reno Arts Corridor.
Meet Adam Johnson there! Please visit nevadahumanities.org for more information about the Literary Crawl and Adam Johnson's schedule.
Book Discussions
Discussions will take place in three parts: Part 1, Part 2 through page 380, and the remainder of the book. Discussions at the Spanish Springs Library will cover the first and second halves of the book.
North Valleys Library
Fridays at 4:00 pm: June 30, July 28, and August 25
Incline Village Library
Thursdays at 6:30 pm: July 13, August 10, and September 14
Downtown Reno Library
Sundays at 1:00 pm: July 16, August 20, and September 10
Northwest Reno Library
Saturdays at 10:30 am: July 22, August 12, and September 9
Spanish Springs Library
Tuesdays at 5:00 pm: July 25 and August 29
Sparks Library
Thursdays at 6:00 pm: July 27, August 17, and September 7
Print